2019 has seen the publication of much of the research carried out during the Darwin and McKnight funded phases of the project to enhance insect-derived ecosystem services on bean smallholder farms in East Africa.
The following publications are all now available online, many of them free to view:
Elisante, F., Ndakidemi, P. A., Arnold, S. E., Belmain, S. R., Gurr, G. M., Darbyshire, I., Xie, G., Tumbo, J. & Stevenson, P. C. (2019). Enhancing knowledge among smallholders on pollinators and supporting field margins for sustainable food security. Journal of Rural Studies, 70, 75-86.
Mkenda, P. A., Ndakidemi, P. A., Stevenson, P. C., Arnold, S. E., Belmain, S. R., Chidege, M., Gurr, G.M. & Woolley, V. C. (2019). Characterization of hymenopteran parasitoids of Aphis fabae in an African smallholder bean farming system through sequencing of COI 'mini-barcodes'. Insects, 10(10), 331.
Mkenda, P. A., Ndakidemi, P. A., Mbega, E., Stevenson, P. C., Arnold, S. E., Gurr, G. M., & Belmain, S. R. (2019). Multiple ecosystem services from field margin vegetation for ecological sustainability in agriculture: scientific evidence and knowledge gaps. PeerJ, 7, e8091.
Mkenda, P. A., Ndakidemi, P. A., Stevenson, P. C., Arnold, S. E., Belmain, S. R., Chidege, M., & Gurr, G. M. (2019).
Field margin vegetation in tropical African bean systems harbours diverse natural enemies for biological pest control in adjacent crops.
Sustainability
,
11
(22), 6399.
It is exciting to be able to share findings and outcomes from the project more widely via publications.
Dr Sarah Arnold was recently invited to give a guest lecture at Canterbury Christ Church University (UK) to an audience of undergradate and postgraduate students, and staff, particularly those with an interest in applied conservation ecology. It was an opportunity to share the work of the Agricultural Ecosystems team more widely and discuss some new issues, as well as connecting with current and future possible collaborators.
The NaPROCLA team came together on 4th and 5th October for a whole team meeting to discuss progress so far on the project and plan out the next year or so.
The team received updates from Phil Stevenson (general background and overview), Sarah Arnold (ecology of field margin beneficial insects), Victoria Woolley (molecular identification of parasitoids), Yolice Tembo (field trials in Malawi), Janet Obanyi (field trials and molecular ID of aphid parasitoids in Kenya), and Baltazar Ndakidemi (field trials in Tanzania, including parasitoids of Maruca). The team were all highly impressed with the hard work of the project partners and the enormous progress that has already been made.
Dr Victoria Woolley spent time in both Tanzania and Malawi, for project meetings, fieldwork, updates, and to provide training to students at NM-AIST on molecular techniques such as PCR and DNA barcoding that will enable them to identify difficult insects more efficiently.
One valuable aspect of the project's collaborative nature is that there are many opportunities for all partners to learn from each other. Peer-to-peer knowledge sharing is helping different partners troubleshoot their respective experiments.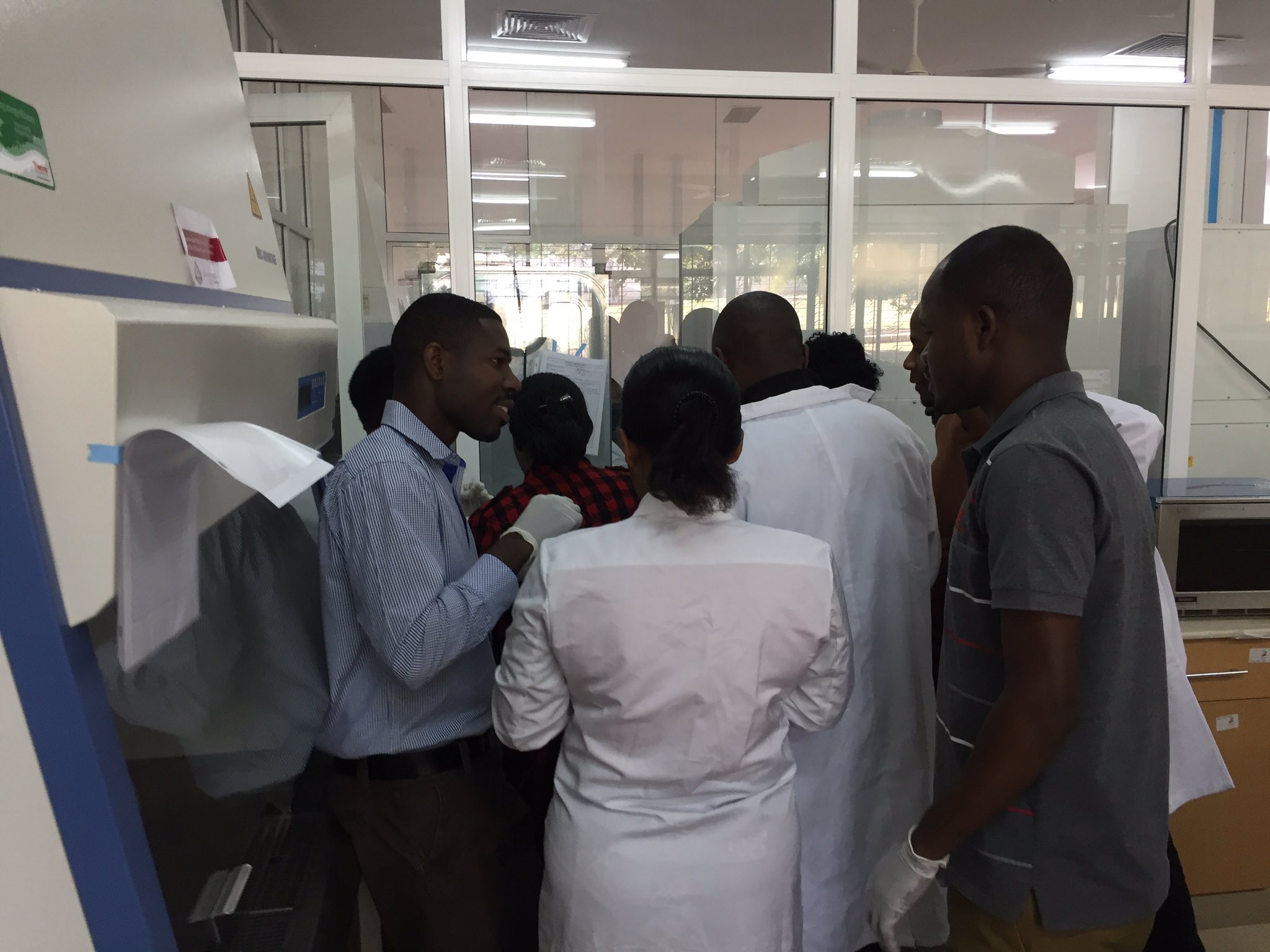 NM-AIST scientists, including Prisila Mkenda and Baltazar Ndakidemi, learn about molecular laboratory techniques relevant to pest management. Credit: V Woolley